PONY KIDS SUMMER HORSEMANSHIP CAMP
REQUIRED CLOTHING AND SUPPLIES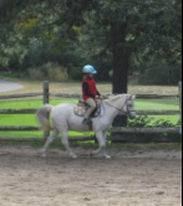 CLOTHING:
For their riding lesson, children must wear riding boots (we recommend paddock boots), or shoes with a square heel (such as work boots). Sneakers or sandals are not permitted. Additionally, riders must wear long pants (we recommend jodhpurs, but jeans are fine for those just starting out). All riders must wear an ASTM certified riding helmet when mounted. We recommend riders have their own properly fitted helmet for safety and hygiene. However, Woodsong has helmets available for daily rent for those who would prefer not to purchase a helmet of their own. Hair shoulder length or longer is properly worn in a pony tail or braids while under your helmet. Please be sure to bring suitable hair elastics.
For the safety of the rider, there are NO EXCEPTIONS to the required riding attire.
While participating in all camp activities other than riding, children are welcome to wear shorts and/or sneakers if they prefer. However, we find that children are usually comfortable wearing their paddock boots throughout the day. Sandals, flip flops, or other open-toe shoes are NOT permitted at any time.
OTHER SUPPLIES:
Pony Kids should bring a mid-morning snack and a lunch, complete with a drink, to camp each day. While we do have refrigeration for medical supplies, refrigeration for camper snacks and lunches is not available. A sweat shirt or light jacket is often a good idea for those chilly days as we usually have a wonderful sea breeze crossing the farm.
Please be sure that all of your child's belongings are labeled so that they can easily be identified by your child or our staff if necessary. Items often look alike and cases of mistaken identity can happen.
---