PONY KIDS HORSEMANSHIP DAY CAMP


Pony Kids Horsemanship Day Camp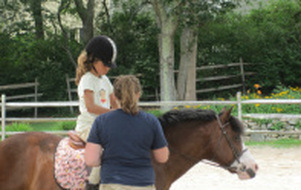 Pony Kids is a progressive horsemanship day camp program, from the first time rider, to the experienced competitive rider. No prior riding or horse related experience is necessary to participate in our Pony Kids program. However, our program is totally horse orientated, so it is important that your child has a genuine interest. Our Pony Kids program introduces the beginner to basic skills in riding and horse care in a safe, supervised, nurturing environment with individualized attention. The program provides beginner and novice riders with a correct solid foundation, knowledge and confidence. Our more experienced riders focus on advancing their riding skills, expanding their understanding and proficiency of various horsemanship topics and achieving greater responsibility and independence. Safety, education, and fun is emphasized in our Pony Kids program. Each summer over half of our Pony Kids are returning campers who join us to enjoy camp, improve their skills, renew old friendships and meet new friends. Our Pony Kids program welcomes children seven to fifteen years of age. To help ensure the safety of all of the children, to participate in the program children must be well behaved and able to follow directions, be physically fit, and be able to dress themselves without assistance. This program is not suitable for a child needing a therapeutic riding program, a child who requires an aid, or a child with discipline issues.

---
A Pony Kids Day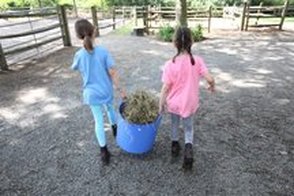 Pony Kids headquarters is located in front of the stable, overlooking our riding arena. Our day begins at 9:00 AM with everyone meeting for sign in and morning animal chore assignments. After morning chores, campers gather together for snack time. Following snack time, campers separate into small groups to participate in demonstrations, lectures, and hands-on activities based on their level of experience. During the afternoon, campers have lunch, riding lessons, horse centered arts & crafts, horse games and afternoon chores. We encourage interaction between all levels of campers, with our more experienced riders sharing their knowledge and love of horses with the more beginner riders. Beginner and novice riders ride in half hour private lessons. Our more experienced riders ride in either small group or private lessons. Our camp day ends at 2:00 PM with parents checking in with our counselors to pick up campers. On Thursdays and Fridays, parents are invited to observe riding lessons and participate in a "barn tour" at the end of camp.

---
Required Clothing and Supplies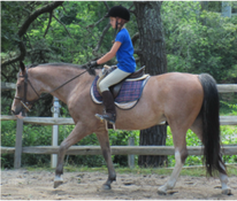 For their riding lesson, children must wear riding boots (we recommend paddock boots), or shoes with a square heel (such as work boots). Sneakers or sandals are not permitted. Additionally, riders must wear long pants (we recommend jodhpurs, but jeans are fine for those just starting out). All riders must wear an ASTM certified riding helmet when mounted. We recommend riders have their own properly fitted helmet for safety and hygiene. However, Woodsong has helmets available for daily rent for those who would prefer not to purchase a helmet of their own. Hair shoulder length or longer is properly worn in a pony tail or braids while under your helmet. Please be sure to bring suitable hair elastics.
For the safety of the rider, there are NO EXCEPTIONS to the required riding attire.
While participating in all camp activities other than riding, children are welcome to wear shorts and/or sneakers if they prefer. However, we find that children are usually comfortable wearing their paddock boots throughout the day. Sandals, flip flops, or other open-toe shoes are NOT permitted at any time.
Pony Kids should bring a mid-morning snack and a lunch, complete with a drink, to camp each day. Refrigeration is not available except in the case of necessary medications. Please be sure that all of your child's belongings are labeled so that they can easily be identified by your child or our staff if necessary. Items often look alike and cases of mistaken identity can happen.
PLEASE NOTE: Registration is required prior to your child's first day of camp. Unfortunately, we are not able to accommodate "drop in" participants.
Click here to register your child
.
---
To pause or rewind the slide show below, simply mouse over the top of the slide show and control options will appear.