HORSEMANSHIP CLASSES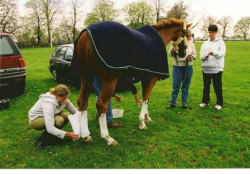 Join us
for some fun and expand your knowledge! We welcome participants of all levels; we offer classes for both the "beginner" and the "not-so-beginner". There are lots of tasks and topics to choose from and we do not set a specific predetermined curriculum for each week. This allows us to cater each class to the participants we have enrolled for that particular week. If you aren't sure what an eggbutt snaffle is, how to properly apply poltice, or why your horse gets a Coggins Test, these classes will help you learn all that and much more! Classes entail hands on learning, participation and practice!
While dates can vary slightly from year to year, classes usually begin after we return from the Massachusetts and New England Equitation Finals in the early fall and continue into mid-spring. Participants may join us on individual dates that suit their schedule, or sign-up for a block of dates at a discounted rate. Occasionally, due to the complexity of a few specific activities, we must limit the class size in order to insure an extra amount of personal attention and assistance for each participant. In the few instances where limiting participation is necessary, students will be accepted on a first-come-first-served basis. Registration is required a minimum of three days prior to class date.
Classes are scheduled periodically throughout the year. Please check our Facebook page or the bulletin board at the farm for upcoming dates.
---