INTERSCHOLASTIC EQUESTRIAN TEAM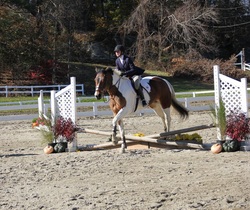 In addition to the local and national level horse showing opportunities we provide, the Woodsong Interscholastic Equestrian Association (IEA) Team offers another avenue for equestrian learning and experiences.

Our IEA Team offers an opportunity for riders of various levels to compete in a unique team environment. Riders from beginner* to advanced are welcome to be a part of the experience! When it was founded in 2002, the IEA modeled its program after the IHSA college format. This format, which requires riders to compete on randomly drawn horses, differs significantly from traditional equestrian competition. Participation on an IEA team provides riders interested in riding for their college team the chance to become familiar and proficient with the format. Team participation provides riders at all levels with an inexpensive showing opportunity, accessible national level goals and scholarship opportunities. Additionally, riders are afforded the opportunity to develop leadership skills and expand horsemanship skills through active hands-on participation in all aspects of horse show management, fundraising and more. They also enjoy the rather unique additional accolade for those important college applications!

Time and again, our team members have proven themselves to be competitive both in regular IEA competition as well as post- season Finals. While we always strive to improve our riders' skills and to enable them to be as competitive as possible, the Woodsong IEA Team places emphasis on teamwork, sportsmanship and learning. And the kids have lots of fun along the way!

---
Post-Season Overview and Our Team Stats:
Per IEA rules, each rider may compete in a maximum of five IEA competitions per regular season. At each show, riders receive points for each award placing they earn. Riders earning a minimum of eighteen points in each division per season will qualify to compete at Regional Finals. Each year, several hundred riders compete at Regional Finals which is comprised of all of the qualified riders from IEA teams within a geographic region. Our region ranges from Southeastern Rhode Island through Southeastern Massachusetts. Only the top two or three riders at Regional Finals (dependent upon the total number of riders qualified) will qualify to move on to Zone Finals. Zone Finals encompasses all of New England. Only the top three riders in each division at Zone Finals will qualify to move on to National Finals. The National Finals are held in a different location of the country each year. Our team has a great record - Click here to see our statistics!

Requirements For Team Participation: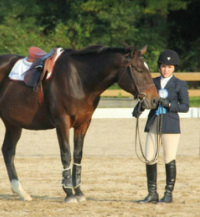 From beginner* to advanced, Woodsong welcomes riders at all levels of ability and experience to join our team! Riders do NOT need to be (or become) regular Woodsong Farm clients in order to participate on our team. It is not necessary for riders to have their own horse in order to participate. In accordance with IEA rules, riders must be enrolled (or home schooled) in grades six through twelve to be eligible for participation. Bi-monthly practice sessions are open to team members only and focus on developing and improving IEA competition skills. Team practices are intended to complement, not replace, regular riding lessons. Team practice sessions may be waived for riders not in our geographic area - please inquire.

Riders or parents interested in learning more about becoming a part of our winning team are encouraged to contact us for more complete details! Each June we have a fun and educational team meeting. Anyone interested in the team is strongly encouraged to attend our annual meeting. If you've missed the meeting, it still may not be too late to join - please contact us to learn more!

Please note that riders attending schools within the Nauset Regional School District, or the Cape Cod Tech, may take the school bus directly from school to Woodsong!


*Beginner riders need to be able to securely canter in order to participate on the team. If you have any concerns, please don't hesitate to ask!

---
To pause or rewind the slide show below, simply mouse over the top of the slide show and control options will appear.