BOARDING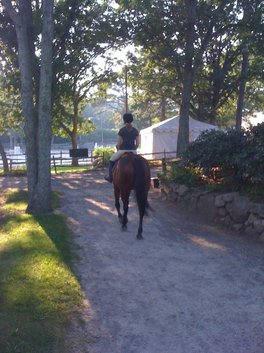 Woodsong board all kinds of horses and ponies for all kinds of riders. Some are interested in the instruction, training, and many activities we offer, while others are interested in the tranquility and beauty of our natural surroundings.

Quality care for each horse is our primary concern. For additional safety and security, the farm owner lives on premises. The daily needs of all horses in our care are tended to by knowledgeable and caring individuals. Routine veterinary and maintenance care is scheduled by Woodsong Farm. Other services are available to assist boarders. From medical rehabilitation care to body clipping, we have staff skilled to handle your needs.

Our facilities include a twenty four horse stable with box stalls, tack room, feed room, 100' x 200' lighted ring complete with computerized watering system and regular dragging for excellent footing, full sets of schooling and show jumps, multiple turn out areas with safe split rail fencing, wash racks and pasture all in a beautiful and tranquil setting.

If you like an abundance of varied trails, you'll love our location! We abut Nickerson State Park which affords us miles of scenic and safe trails through 1,900 acres. From the park, we also have easy access to the Cape Cod Rail Trail and the beaches of Cape Cod Bay. Despite our prime location, we do not rent our horses to the public for trail rides.
---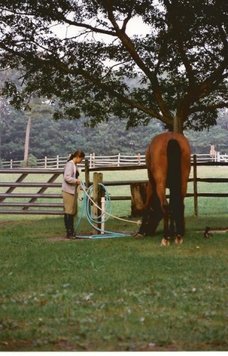 All of our boarding options include daily feeding (with hay fed multiple times per day), watering (including daily bucket scrubbing), stall care, and turn out. In addition to top quality hay, we continually have available a wide variety of grains to suit the needs of each individual horse. Medications and supplements are handled on an individual basis as needed by the horse. For the safety of our horses, we provide individual turn out in well maintained split rail fenced paddocks. If needed, turn out with a "buddy" can usually be arranged. Each paddock is equipped with its own clean and fresh water as well as a salt/mineral block.

A discount on our regular lesson fee is provided to those boarding at Woodsong. Additionally, further discounts are available to those who have chosen our Lesson Board option. Board without lessons is available. However, most of our clients come to us seeking the instruction and training we can provide and therefore select our Lesson Board option, have a horse in training, or a combination of the two. Please contact the farm to discuss which option works best for your goals.

---