RIDING LESSONS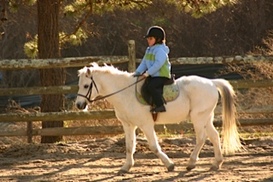 Woodsong Farm offers year-round riding lessons and instruction in equitation, hunters and jumpers. We start children at five years of age and teach all ages, including adults in their senior years. Throughout the years, we have had the pleasure of helping riders with a wide variety of goals and aspirations. Some simply love sharing time with the animals and the joy that it brings; others enjoy learning to bring along an inexperienced horse or the challenge of competing at the local or national level. Whatever a rider's level or desire, we are pleased to design a program to suit each individual's needs.

All beginners are started in half-hour private lessons. The one-on-one instruction afforded in the private lesson is safer for the student and assures that the rider can progress at a pace that is most comfortable and suitable for the individual. A one hour semi-private lesson is an option for our more advanced riders currently training with us.
---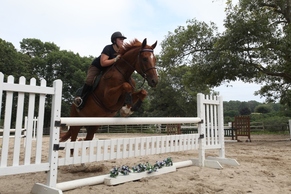 As required by the Commonwealth of Massachusetts, each of our instructors and trainers is appropriately licensed. Some of our instructors also hold USHJA Trainer Certification as well. Important to the education of the rider, our instructors have an extensive background of training and competitive experience. To maintain continuity in our riders' training, all of our instructors teach with the same basic philosophy. Occasionally one instructor will phrase something slightly different than another instructor, enabling that all important concept to "click" for the rider. All riders are required to wear riding boots, or a shoe with a heel, and an ASTM certified riding helmet whenever mounted on the horse. Woodsong has helmets available for new students to rent for their first couple of lessons if they prefer to wait to purchase a helmet of their own. While not required, we strongly recommend jodhpurs or breeches and half chaps for comfort while riding. For convenience, we have an on-site
tack shop
that can assist you in obtaining properly fitted riding clothing, equipment and supplies as well as gifts for the horse-lover.
---
All lessons require advanced scheduling. Appointments can be made by calling Woodsong Farm at 508-896-5800.