HORSE SHOW COACHING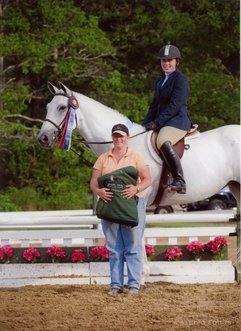 We do not require any of our riders to compete. However, many choose to do so. We find that competition can be a wonderful motivator and an excellent benchmark of progress. Our students, of all ages and levels, may choose our on-farm Woodsong Farm Schooling Shows to provide them with a low-key and inexpensive horse showing opportunity. These shows are open to Woodsong students as well as the horse community at large. Students are welcome to use a WSF lesson horse for participation in these on-site shows. Those who hold greater aspirations and have made a commitment to the sport by leasing or purchasing a horse of their own, may opt to travel with us to USEF recognized competitions throughout the season.

To ensure they are ready to face any challenge presented in the show ring, we work hard with our riders building skills, understanding and confidence. Whether a beginner or an experienced competitor, our riders are regularly competitive at the local, regional and national level. While it is always challenging and exciting showing with our more advanced riders, we delight in providing beginners with their introductory horse showing experiences and watching them progress into confident and competitive athletes!

Learning to ride is a steady evolving process. Often, it is filled with highs and lows. Just when you may think you've mastered riding, there is always a new skill to learn and hone. We encourage our riders of all levels and abilities, whether they desire to compete or not, to continually strive to improve their skills, to enhance their education and to expand their experiences.



---
To pause or rewind the slide show, simply mouse over the top of the slide show and the control options will appear.