FARM HISTORY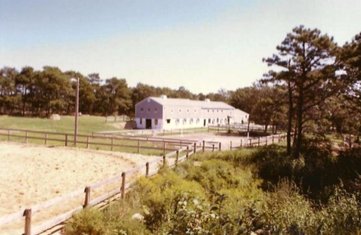 Woodsong Farm - 1970
Prior to the establishment of Woodsong Farm in 1967, the property was part of the Pine Ridge Dairy. Owned by Ollie Lund, the dairy encompassed 365 acres and was part of open space which extended all the way to Route 137. After the dairy closed, the property was purchased by a land development corporation and then sat idle as they had no immediate intentions. Initially, Woodsong leased the barn and a portion of the dairy property. The land leased by Woodsong encompassed what is now the Brewster Green condominium property (in its entirety), a portion of the Ocean Edge condominiums as well as the Eleventh Hole, Twelfth Tee and Twelfth Hole of the Ocean Edge Golf Course. At the conclusion of the lease, Woodsong Farm wanted to exercise the "option to buy" clause in their lease. Unfortunately, the lease holders had plans to develop the entire property into a single condominium complex. After a brief legal battle, it was determined that Woodsong would be able to purchase the property - but not the entire amount that had been included in the original lease. So after some major renovations, you see the property as it is today.

---



Woodsong Farm - Modern Day
Our barn on the property is the original Pine Ridge Dairy barn. The interior, on the main floor, has been modified a few times over the years to be a more suitable home for our horses. Being built into the bank, our barn is always warm in the winter and cool in the summer. Additionally, we are afforded oversized south facing windows, a large hay loft and considerable storage space that is easily accessible from the inside or the outside. Upstairs, the barn still contains the original "milk room" complete with concrete floor and six inch thick doors and walls.
---
Over the years, we have had many privileges including producing hay from our own fields, hosting the Norfolk Hunt Club for a foxhunt and housing the entire team of Anheuser-Busch's Budweiser Clydesdales during their participation in the Harwich Cranberry Harvest Festival. We thoroughly enjoy being a part of the history of Brewster!